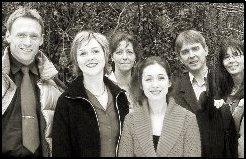 Our Team
We are a group of translators who decided to collaborate on various translation projects. We work both individually and in groups and we translate from English to Swedish in a number of subjects, including IT and computers, medical devices, and medicine.
Friends and Colleagues
One of the advantages of our team is that we have socialized outside work for years and we enjoy working together. We know each other's strengths and weaknesses and distribute tasks within the group in the most suitable way for everyone involved. In addition to our daily contact at work, we get together regularly to review the technical side of the business and to discuss linguistic issues, terminology management, and other relevant subjects.
Experience and Procedures
Our well-integrated procedures enable us, right from the start, to identify problem areas in a project, research terms, prepare and update glossaries to ensure that the entire group uses the same terminology, implement relevant changes, and work with the most recently updated memory. We feel it is essential for our internal project managers to participate actively in the translation process. Our clients can feel secure when they hire us. In recent years, we have handled translations in several large (+200,000 word) projects in fields such as IT, computers, and medical devices.